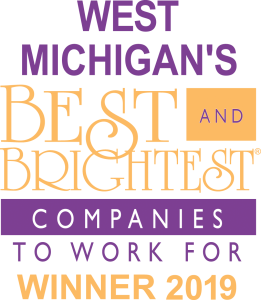 Every year, the National Association of Business Resources honors organizations with Best and Brightest Companies to Work For®. Employees, peers, and customers are eligible to nominate a company. Only companies that "display a commitment to excellence in their human resource practices and employee enrichment" are declared winners. Companies are judged not only on their own self-assessments, but also on employee surveys submitted anonymously. Altogether, this gives an unbiased view into each organization.
Robroy Enclosures is excited to announce that we were selected as a winner of West Michigan's 2019 Best and Brightest Companies to Work For®. After analyzing our communication, work-life balance, employee education, diversity, recognition, retention, and more, they presented the award the at Best and Brightest Winner Celebration. Dora Marker, Human Resource Generalist, accepted the award on behalf of the company.
To learn more about our companies values, visit our corporate Value Statements page.
Interested in working at Robroy Enclosures? Visit careers.robroy.com to browse employment opportunities!