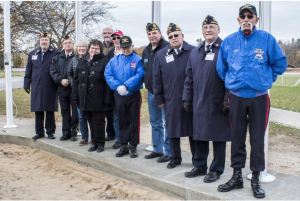 Representatives from the organizations and family that sponsored one of six flagpoles, which cost approximately $8,000 total, were in attendance at an afternoon dedication ceremony at the Belding Veterans Memorial. The sponsor's representatives were asked to raise a flag on each pole including Cindy Stowell (3rd from the left) of Robroy Enclosures. Photo Credit: https://thedailynews.cc/articles/flags-raised/
Robroy Enclosures, a leader in the design, manufacturing, and sales of non-metallic NEMA rated enclosures, continues to support local and national veterans, an important cause for the company, with a sponsorship of the new local Belding Veterans Memorial.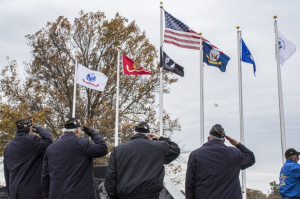 Photo Caption: The flags raised as part of the ceremony represent the branches of service in the military, the U.S. flag and the POW/MIA flag.
The local Belding organizations that sponsored the poles included: Robroy Enclosures, the Greenville American Legion Post 101, the Belding VFW Post 4406, the Belding American Legion Post 203, and Leppinks Food Centers.