The Polycarbonate CF Pushbutton is available in 22 mm or 30mm hole options in two sizes 4 x 3 x 2 and 5 x 3 x 3
Stahlin® Non-Metallic Enclosures offers the most durable and reliable enclosures available in the marketplace. Due to customer request for additional pushbutton options, Stahlin® has expanded the series to include the CF Polycarbonate Series in 22 mm or 30mm options, in two sizes: 4 x 3 x 2 and 5 x 3 x 3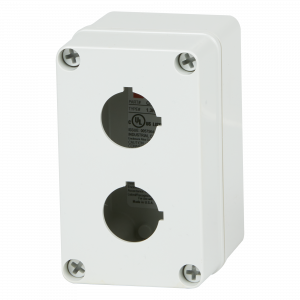 These Stahlin® CF pushbutton series can be used as a general junction or termination point enclosures in an electrical system. The rugged and durable design allows them to be used in many MRO and OEM applications. The slim design style allows easy use of pushbuttons and switches in machine control applications and where tight or dense space requirements are necessary.
Stahlin® CF- Pushbutton Series – 22 mm Holes
NEMA Rating: 1, 3R, 4X, 6P, 12
IEC 60529 Ratings: IP66, IP67*, IP68
Plenum Space Rating (UL 2043)*
PB-22: 4 cover screws, lift off cover 22mm configuration
Six pushbutton arrangements are available
1-6 holes
Lift off cover design
Recessed captive stainless steel screws*
Polycarbonate cover screws for polycarbonate box
Notched key hole design
Metal grounding strap furnished*
Sleek unobstructed sidewall design
Stahlin® CF- Pushbutton Series – 30 mm Holes
NEMA Rating: 1, 3R, 4X, 6P, 12
IEC 60529 Ratings: IP66, IP67*, IP68
Plenum Space Rating (UL 2043)*
PB: 4 cover screws, lift off cover–30mm configuration
External mounting feet available*
Six pushbutton arrangements are available
1-6 holes
Lift off cover design
Recessed captive stainless steel screws*
Polycarbonate cover screws for polycarbonate box
Notched key hole design
Metal grounding strap furnished*
Sleek unobstructed sidewall design
External mounting feet available*
*Fiberglass only
Stahlin®'s Pushbutton Series Industry Standards Include:
UL/cUL 50: File E64358 Type 1, 3R, 4X, 6P, 12
NEMA 250: Type 1, 3R, 4X, 6P, 12
CSA Std C22.2: File LR069014* Type 1, 3R, 4X, 6P, 12
Temp. Range (Fiberglass):(-76°F to +274°F) (-60°C to +134°C)
Temp. Range (Polycarbonate):(-20°F to +240°F) (-29°C to +115°C)
Flammability Rating: UL94-5V
Self Extinguishing: Non-flame propagating
IEC 60529 File: 362920 Ratings: IP66, IP67*, IP68
Stahlin® Non-Metallic Enclosures pioneered non-metallic enclosures. For more than 70 years, we have led the electrical products industry in designing, engineering and manufacturing innovative, reliable fiberglass, polycarbonate, and PVC electrical and instrumentation enclosures for diverse interior and exterior applications. Stahlin® provides the most extensive in-stock and customized line of non-metallic enclosures and accessories, balancing appealing aesthetics with stringent physical property performance standards including NEMA 4X and NEMA 6P integrity.
As a proud U.S. manufacturer, we are the primary source producer of our own enclosure components. Stahlin® offers the Right Product, at the Right Price, Right Now! Stahlin® Non-Metallic Enclosures is a brand of Robroy Enclosures™ (a subsidiary of Robroy® Industries, serving the marketplace under one family ownership since 1905). www.stahlin.com