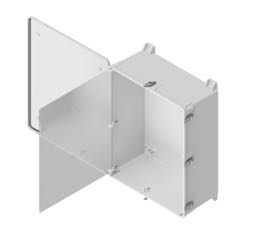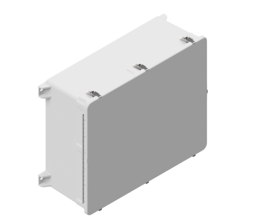 Stahlin® Non-Metallic Enclosures Expanded J Series is bigger, better, and offers more space for maximum protection at a competitive price. There are currently two new sizes of the popular J Series: 30" x 24" and 24" x 30," that include a hinge and lockable pull latch (HPL).
Stahlin® Non-Metallic Enclosures Larger J Series features include: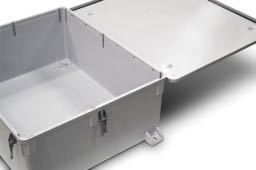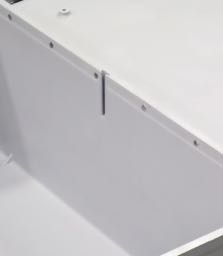 New T-Slot design for easy installation of a swing panel, dead front, or din rail mounting
Overhang cover on smooth-sided base
Full 180° door opening
Mounting foot gussets for structural integrity and robustness
Off-the-shelf hardware for convenience in installation
Field replaceable stainless steel latches
Full length stainless steel piano hinge
Rugged design provides industry leading weight loads
More available space for reliable enclosure protection
UV resistance, featuring patented SolarGuard®, the best available protection against UV degradation
The new Stahlin® Non-Metallic Enclosures expanded J Series are compliant with all industry standards for hose down water-tightness, and corrosion resistance. This includes: cULus Listed for NEMA 250 Type 1, 3, 3R, 4, 4X, 12, 13, IEC 60529 IP66, Temperature Ranges from (-76°F to +274°F) (-60°C to +134°C), Flammability Rating UL94-5V, Self-Extinguishing, Non-Halogenated, Non-Flame Propagating, and NFPA No. 101 Flame Spread Class A (1).
Stahlin® Non-Metallic Enclosures pioneered the non-metallic enclosure. For more than 70 years, we have led the electrical products industry in designing, engineering and manufacturing innovative, reliable fiberglass, polycarbonate, and PVC electrical and instrumentation enclosures for diverse interior and exterior applications.
As a proud U.S. manufacturer, we are the primary source producer of our own enclosure components. Stahlin® offers "The Right Product, at the Right Price, Right Now!" Stahlin Non-Metallic Enclosures® is a brand of Robroy Enclosures™ (a subsidiary of Robroy® Industries, serving the marketplace under one family ownership since 1905). www.stahlin.com