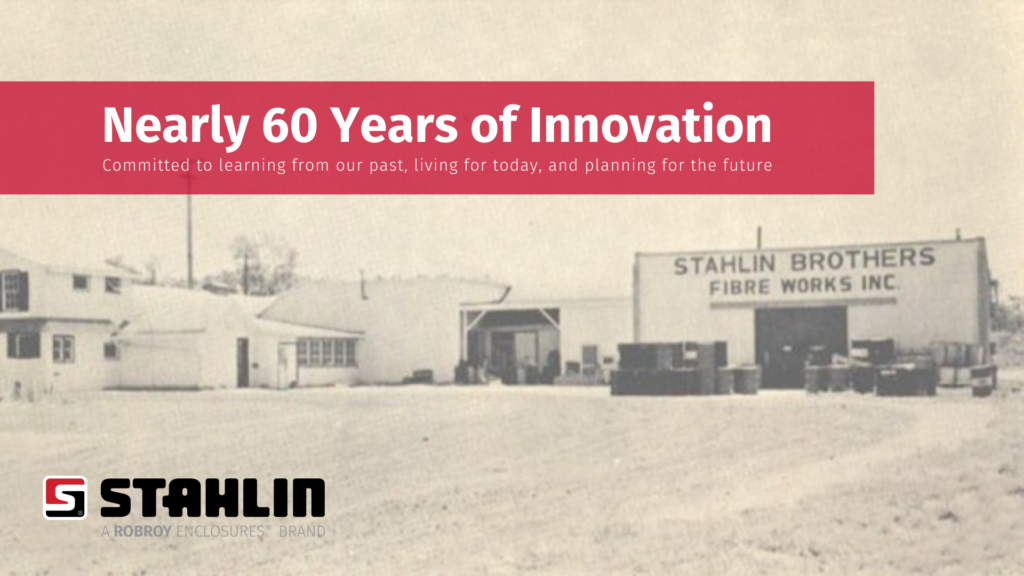 Thomas Edison, the great American inventor, once said: "The value of an idea lies in the using of it." Years later, another American businessman with a genius for product creativity, Steve Jobs, said: "Innovation distinguishes between a leader and a follower."
We, at Stahlin® Enclosures, live by both those statements. As part of Robroy Industries, a company established in 1905 and still operated by the same family that began the business — and as Stahlin®, with nearly 60 years of successful expertise as the world's leading supplier of non-metallic enclosures — we are committed to the concept of learning from our past, living for today, and planning for the future.
Our history of innovation is broad and deep. Just a few examples include:
The fact that Stahlin® is the pioneer of the fiberglass enclosure. We originated the first product of this type nearly six decades ago at our facility in Belding, Michigan, and have been the leader in fiberglass electrical, instrumentation, control, and industrial enclosures ever since. We have also grown to offer 15 full product lines encompassing thousands of part numbers and hundreds of configurations.
SolarGuard®. We formulated and introduced an unsurpassed, non-halogenated fiberglass system that beats the effects of outdoor exposure plus provides unmatched chemical and flame resistance. In extensive comparison testing, our Stahlin® fiberglass enclosures, protected by SolarGuard®, outperformed other available SMC formulations by as much as 60% in the ability to retain gloss and color after exposure to concentrated UV light. SolarGuard's® patented double protection formula was developed in Stahlin's FormRight lab. Due to its chemical composition and other additives, SolarGuard® is able to reduce the effects of UV degradation such as surface roughening and fiber blooming.
Diamond Shield® "No-Limits" Panel Management System. Our DiamondShield® product line, innovative in many ways, was developed for design flexibility and pleasing aesthetics. Available in size ranges: 6" x 6" to 20" x 16", applications include high-end electronics, harsh corrosive environments, and industrial applications both indoors and out. Of significant innovative value to the customer, our patented "No-Limits Panel Management" capabilities provide the end-user with only the features they need for their application, leaving every cubic inch of valuable internal enclosure space for use.
Application-specific innovation. Much of our history of product innovation is based on meeting highly-specific application requirements. A case in point is our FatBoy® Series, a clamshell-style enclosure designed to meet the industry's unique requirement for an extra deep enclosure without significantly increasing the length and width of the enclosure.
Another example: the workhorse of our product lines: our J Series of junction boxes ranging in size from 6" x 4" to 30" x 24". Originally developed as an electrical junction box for the oil refining and petrochem industries, the fiberglass J Series has evolved over the years into a versatile industrial enclosure with varied applications for use from high-end electronics to extreme corrosive applications both indoors and out. Rugged design combined with tough, durable materials, for extreme reliability in tough environments are key attributes of this series.
Our innovation has also extended into other materials including polycarbonate where innovations in formulating and compounding, combined with our expensive experience in molding, resulting in the most durable, reliable NEMA 4X non-metallic polycarbonate enclosures available. Made in the U.S.A., PolyStar® polycarbonate enclosures, ranging from 6" x 6" to 24" x 24", can withstand rain, sleet, snow, splashing water, hose directed water—and provide superior impact and flame protection!
Modifications and Customization. Innovation in tandem with proven expertise has led to the development of our highly successful ModRight® enclosure modification program designed to support end-users in uncommon or complex applications. The combination of our technologically advanced equipment and a sound procedure for handling the most detailed modification allows Stahlin® Enclosures to process modifications on time, and to the highest quality standards in the industry. As an extension of this capability, our high level of proven innovation enables customers to use our SMC manufacturing, compression molding, injection molding, and other processes to design and develop custom products unique to the end-user or application.
Education. Our innovation does not begin and end with products. We specialize in helping others use their enclosures to optimum value. Our Stahlin Boot Camp is a unique, hands-on, nationally recognized, one and a half-day educational experience designed to give participants an enjoyable but instructional opportunity focused on real-life applications, learning-by-doing, and direct one-on-one time with professionals who are experts in enclosures and materials. Boot Camp is now available as an online educational experience.
Support for our world-class products. Where does our proven innovation ultimately lead? To our "Sun-Up-To-Sun-Down 10 Year Product Warranty"– a promise of quality unequaled in the enclosure industry. No other enclosure manufacturer backs its products like we do.
Stahlin® Enclosures are the world's highest-proven-quality and most specified non-metallic enclosures available to OEM's of diverse industries through electrical product distributors. For nearly 60 years, since Stahlin® pioneered the first fiberglass enclosures, we have been the leading innovative solutions-provider for users of NEMA 4X fiberglass and polycarbonate enclosures. Stahlin® Enclosures provides the largest standard product range in the industry, and the widest range of customized and factory-modified non-metallic enclosures available in the industry. Competitive pricing is supported by vertically-integrated Made-In-The-USA manufacturing and speed-of-delivery made possible through thousands of stocking distributors in all 50 states and major cities.
Stahlin® Enclosures
"Right Solutions.
Right Price.
Right Now!"