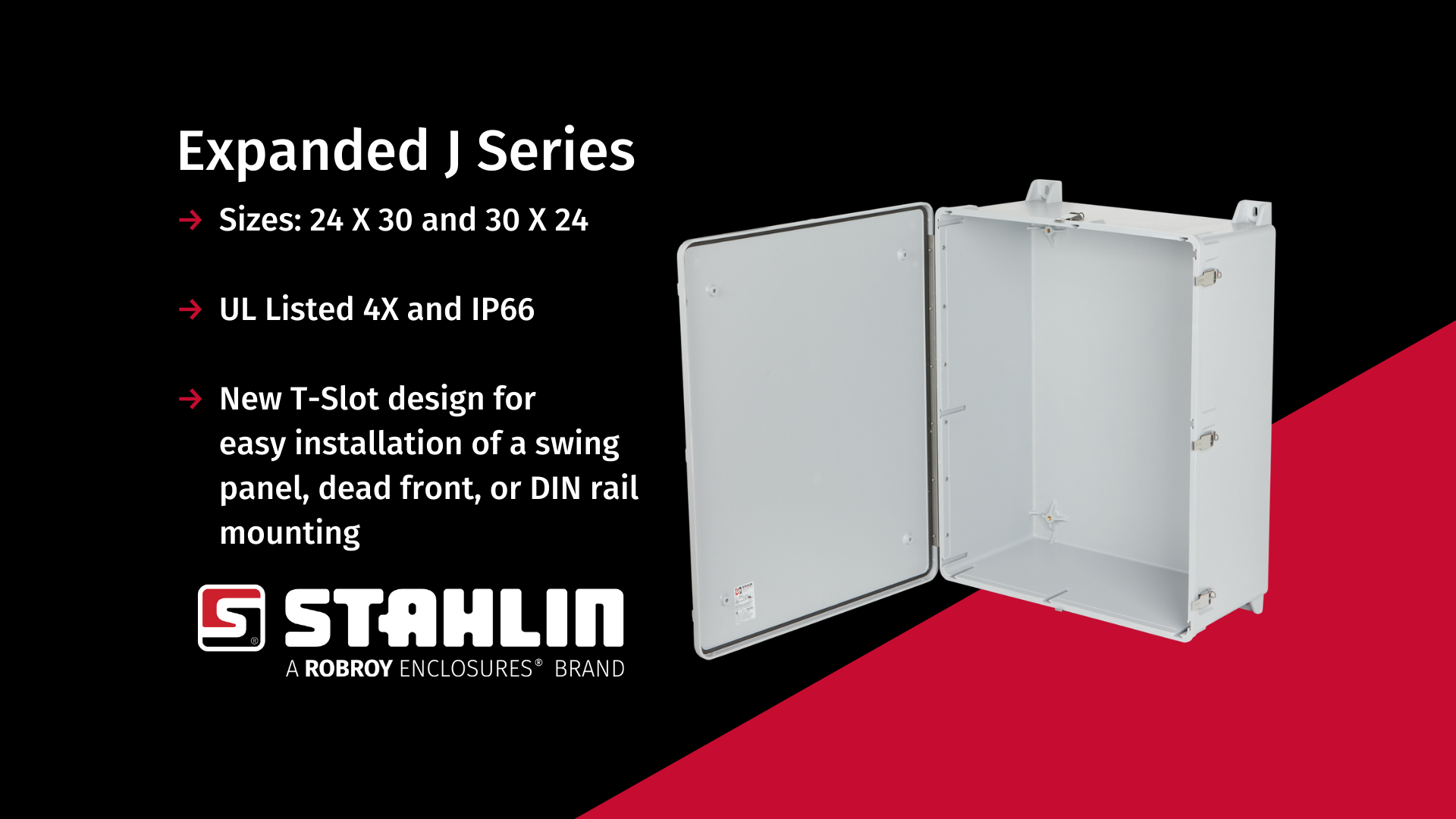 The Largest J Series Enclosures Yet!
Now available from Stahlin Non-Metallic Enclosures:
J Series 30×24 with hinged lockable pull latch (HPL)
J Series 24×30 with hinged lockable pull latch (HPL)
Now with two new sizes in our most popular configuration – featuring a hinged lockable pull latch (HPL) – the Stahlin J Series is bigger, better, and offers more space for maximum protection at a competitive price and available when and where it's needed!
The benefits of the Stahlin® "Expanded" J Series with hinged lockable pull latch include:
More available space for reliable enclosure protection
UL Listed 4X and IP66
Overhang cover on smooth-sided base
Full 180°+ door opening
Mounting foot gussets for structural integrity and robustness
Slotted mounting hole ensures flexibility in mounting and easy changeability with other commercial options
Off the shelf hardware for convenience in installation
Field replaceable stainless steel latches
Full-length stainless steel piano hinge
Rugged design provides industry-leading weight loads
Chemically-resistant fiberglass reinforced composite formulation for long product life cycle
Non-corrosive
UV resistance featuring patented SolarGuard®: the best available protection against UV degradation
Resistance to extreme temperatures
Flame retardant UL94-5V
Channel captured gasket assures seal integrity
Lightweight for ease of handling and cost reduction
Industrially tough, but easily modified
New T-Slot design for easy installation of a swing panel, dead front, or din rail mounting
The Stahlin® J Series product line was designed as an industrial enclosure for harsh, aggressive environments.
Originally developed as an electrical junction box for the oil refining and petrochem industries, the J series has evolved into a versatile industrial enclosure line. It's now available in 18 sizes with varied applications for use from high-end electronics to extreme corrosive applications both indoors and out; currently servicing all industrial applications.
With more than six decades of proven performance, the rugged design combined with tough, durable materials, for extreme reliability in tough environments are key attributes of this series.