The PolyStar® expansion includes five new sizes: 8 x 8 x 4; 10 x 8 x 6; 10 x 10 x 6; 18 x 16 x 4; and 20 x 16 x 8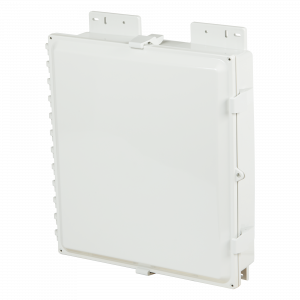 Stahlin Non-Metallic Enclosures offers the most durable and reliable polycarbonate enclosures available in the marketplace. To meet customer's growing demand, Stahlin has expanded the PolyStar® series to include five new sizes that include:
8 x 8 x 4; 10 x 8 x 6; 10 x 10 x 6; 18 x 16 x 4; and 20 x 16 x 8
Made in the U.S.A., PolyStar® polycarbonate enclosures can withstand rain, sleet, snow, splashing water, hose directed water and submersion — and provide superior impact and flame protection.
Features of the PolyStar® Series include:
13 standard sizes: 6×6, 8×6, 8×8, 10x8x4, 10x8x6, 10×10, 12×10, 14×12, 16×14, 18x16x4, 18x16x10, 20×16, and 24×24
Polycarbonate latches and hinges do not penetrate enclosure
Easy to remove lid
High performance inserts
Integrated lock hasp
Flush-fit side mount swing panel and DIN rail system
Molded in bosses
Multi-directional mounting feet
Rated Type 1, 3R, 4, 4X, 6P, 12
Rated IEC IP66, IP68 File: E362920
UL/cUL Approved File: E319779
Stahlin® Non-Metallic Enclosures pioneered non-metallic enclosures. For more than 70 years, we have led the electrical products industry in designing, engineering and manufacturing innovative, reliable fiberglass, polycarbonate, and PVC electrical and instrumentation enclosures for diverse interior and exterior applications.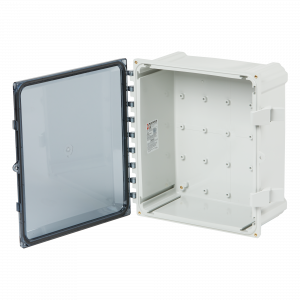 Stahlin® provides the most extensive in-stock and customized line of non-metallic enclosures and accessories, balancing appealing aesthetics with stringent physical property performance standards including NEMA 4X and NEMA 6P integrity.
As a proud U.S. manufacturer, we are the primary source producer of our own enclosure components. Stahlin® offers the Right Product, at the Right Price, Right Now! Stahlin Non-Metallic Enclosures® is a brand of Robroy Enclosures™ (a subsidiary of Robroy® Industries, serving the marketplace under one family ownership since 1905). www.stahlin.com