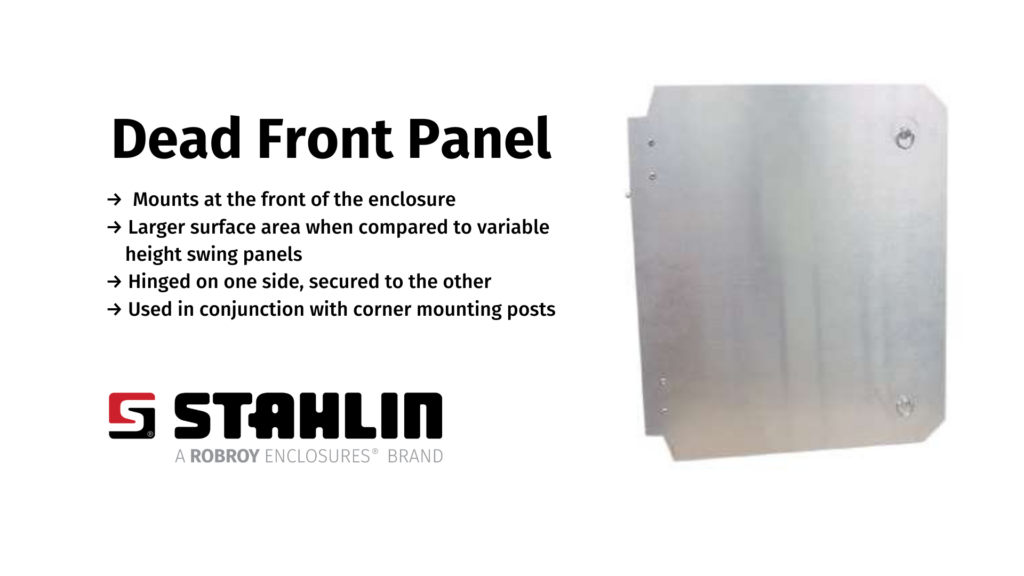 Marketplace leadership from Stahlin® Enclosures has been highlighted by nearly 60 years of innovation.
One of many examples is the availability of our Dead-Front Panels. These panels, used in conjunction with corner mounting posts, mount at the front of the enclosure. They are hinged on one side, secured to the other, and provide a larger working surface area when compared to the variable height swing panel. Dead-Front Panels, made of stainless steel, are available for Stahlin® DiamondShield® Series fiberglass enclosures.
The advantages of Dead-Front Panels are made possible because of Stahlin's one-of-a-kind "No-Limits" Patented Panel Management System®" that enables Diamond Shield® users to take maximum advantage of all enclosure space…including the inside of the cover. The resulting benefit is optimized use and function of all usable space within the enclosure while also assisting in the mounting of cover mounted devices, such as touchpads and printed circuit boards. That, in turn, maximizes visibility of panels that offer critical feedback, such as instrumentation, while preserving the integrity of the enclosure.
Additional benefits of the use of Dead Front Panels in tandem with the "No-Limits" Patented Panel Management System®" include the ability to meet unique visual requirements usually associated with a dead front panel. The freedom to use optimum working surface areas for pushbutton or touch pad layouts greatly enhances end users' design possibilities. It is also possible to externally assemble, then "drop in" to the enclosure DIN rail mounted components, thereby minimizing assembly, modification and field servicing. Areas of adjustment calibration and dangerous voltage areas can be access-restricted.
Yet another way that Stahlin® innovation is at work for the benefit of those who rely on our nonmetallic enclosures.