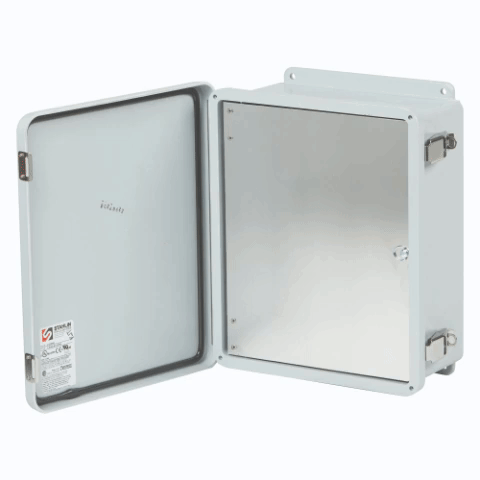 Belding, Michigan — Stahlin –- the world's most specified non-metallic electrical and industrial enclosures — offers users of its fiberglass or polycarbonate enclosures: aluminum swing-mount dead front panels designed to provide an aesthetically-appealing barrier to hide and protect components housed within the enclosure. These panels are easy and quick to install on Stahlin J, JW, RJ, and RJW series in sizes ranging from 10×8" through 20×16".
A Stahlin dead front panel may be used to obscure the view and accessibility of circuitry or devices while offering a cosmetically pleasing mounting surface. In a designer's view, the dead front panel can represent the cover of the enclosure that will rest beneath the enclosure door.
Stahlin Enclosures produces a top-quality dead front panel design, inclusive of spring-loaded releasable hinges that make component mounting and panel assembly a very simple task. When properly installed, the panel is securely fixed to the sidewall of the enclosure. This means that load-bearing weights are distributed throughout the assembly. The hinged suspended panel swings out of the way to provide full access to a panel or PC board mounting.
Stahlin Enclosures are the world's highest-proven-quality and most specified non-metallic enclosures available to OEM's of diverse industries through electrical product distributors. For nearly 60 years, since Stahlin pioneered the first fiberglass enclosures, we have been the leading innovative solutions-provider for users of NEMA 4X fiberglass and polycarbonate enclosures. Stahlin Enclosures provides the largest standard product range in the industry and the widest range of customized and factory-modified non-metallic enclosures available in the industry. Competitive pricing is supported by vertically-integrated Made-In-The-USA manufacturing and speed-of-delivery made possible through thousands of stocking distributors in all 50 states and major cities.
For more information: call 616-794-0700 or contact us
Download the Dead Front Panel Specification Sheet PDF